AL ER Aluminum Hauler Body
Versatility is our middle name
For impressive durability, great functionality and eye-catching design with zero tradeoffs, the AL ER model is the smart choice for your hauling needs. CM's precision-engineered aluminum build is lighter weight yet ultra-strong, while delivering improved fuel economy and lasting corrosion-resistance.
Standard Equipment Information
Integrated tube headache rack
Our headache racks are designed with the best and strongest materials to keep you safe when the unexpected happens.
Recessed toolboxes with locking chrome T-Handle compression latches (4 standard)
Our recessed toolbox doors seal tighter to protect your tools and equipment from the elements. For security, the dual latches lock with a key and padlock loop when desired.
* Beds designed for a RAM Mega Cab will only have two boxes in the rear to accommodate standards on this chassis.
4″ structural steel channel frame rails
Because we don't use roll-formed runners, our structural 4″ channel frame rails are stronger and more durable than any on the market. They also prevent any rusting from the interior of the tube.
30,000 lb.-rated B&W gooseneck hitch with 7-way electrical plug
This is a best-in-class, independently tested gooseneck hitch that handles even your toughest hauls. It also contains a 7-way electrical plug to give you ample choices for your power-driven needs.
4 – Airline track tie-downs
More versatile tie-down points that are stronger throughout the entire hauling process.
Aluminum side rail cap
CM's better-looking, strong aluminum side rail caps have a more finished appearance and longevity that outweighs our competitors.
1/8″ steel treadplate deck
This strong and long-lasting deck is designed for heavy-duty work, withstanding the rigorous work conditions that our bodies are placed under. Compare to other bodies on the market, which use 11-gauge and 13-gauge floors.
Aluminum cast insert for LED rear lights and tag
CM uses cast aluminum housings, which won't corrode like many of our competitors' housings. When you choose an AL ER, you're choosing a bed that performs better and looks better, longer.
Modular sealed wiring harness
Our modular sealed wiring harnesses are resistant to corrosion, deterioration and pulling apart, meaning they can withstand the harshest conditions.
7-way round and 5-way flat electrical plug standard on rear tailboard
This standard feature provides quality results and allows you to hook onto any trailer.
24,000 lb.-rated B&W bumper pull hitch
CM's independently rated bumper pull hitch gives you best-in-class towing capacity, which is integrated into the entire frame.
3" steel roll-formed 3/16" channel cross members
These are the toughest, most durable cross members available on work trucks.
LED Stop, turn, tail, back up, and tag lights in skirt
CM's lights are brighter and use less power than conventional incandescent lights, so your stops, turns, and tag lights will be easily seen and recognized.
Stainless fenders and aluminum tread plate trim
A durable and better-looking fender that will serve you well on the road. Our stainless fenders last longer and resist corrosion.
Angled fuel fill
This great-looking feature provides a no-corrosion zone for all your in-and-out hauls.
Brochure
Submit the form below to be provided a copy of our Steel and Aluminum Truck Beds and Service Bodies Brochure.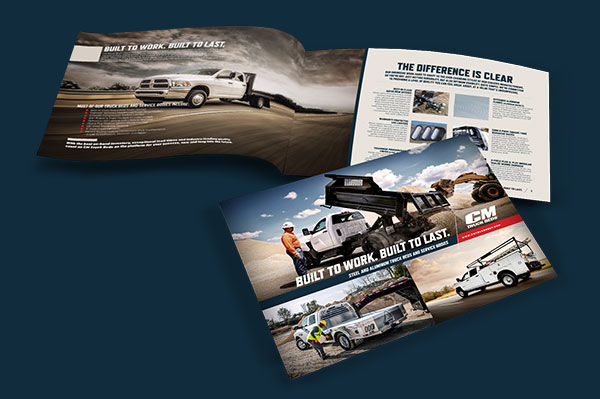 CM Truck Beds News
KINGSTON, OK (January 11, 2020) — CM Truck Beds is proud to introduce the new Gen 2 SB Service Body. Building on the legacy of its popular SB model, CM pushed the envelope to [...]
CM has added another innovation to its lineup with the debut of the HS Hotshot. This single-piece steel truck body is designed for ultimate strength and durability. It offers the industry's best hauling capacity and [...]
CM Truck Beds continues its focus on driving the industry forward with the introduction of several innovative new models in 2020. The CR Crane Body, CB Contractor Body and LB Landscape Body enhance the CM [...]