Standard Equipment Information
3″ Steel roll-formed 3/16″ channel crossmembers on 12" centers
These are the toughest and most durable work truck subframes.
All steel frame construction
A durable, steel manufactured truck bed that displays strength, dependability, and durability.
4″ structural steel channel frame rails
Because we don't use roll-formed runners, our structural 4″ channel frame rails are stronger and more durable than any on the market. They also prevent any rusting from the interior of the tube.
1/8″ steel tread plate deck
This strong and long-lasting deck is designed for heavy-duty work, withstanding the rigorous work conditions that our bodies are placed under. Compare to other bodies on the market, which use 11-gauge and 13-gauge floors.
3" steel roll-formed 3/16" channel crossmembers
These are the toughest and most durable work truck subframes.
Super-durable powder-coat finish
CM Truck Beds coats our products with powder, rather than paint. We cover every crevice and corner, providing long-lasting protection and a superior finish and shine!
3,000 lb.-rated heavy duty materials rack
When there is hard work to do, our heavy duty materials rack is designed to handle it. Our 3" x 2" rectangular tube design ensures that you can carry your tools and materials to the job without needing extra equipment to get it there.
Standard 18″ fold-down aluminum side rails
Now standard aluminum fold-down side rails that are durable, ergonomic and look great.
24,000 lb.-rated B&W bumper pull hitch
CM's independently rated bumper pull hitch gives you best-in-class towing capacity, which is integrated into the entire frame.
7-way round and 4-way flat electrical plug standard on rear tailboard
This standard feature provides quality results and allows you to hook on to any trailer
Angled fuel fill
Provides a shinier, and better-looking feature to your work truck, as well as a no-corrosion zone for all your in-and-out hauls.
Truck Bed Lighting features include:
LED Stop, Turn, Tail, Backup, and Tag Lights in Skirt
CM's lights are brighter and use less power than conventional incandescent lights, so your stops, turns, and tag lights will be easily seen and recognized.
LED DOT required lighting (clearance and marker lights)
When you are backing up, turning, or hitting your brakes along the road, our LED lights will make your truck bed stand out more.
Brochure
Submit the form below to be provided a copy of our Steel and Aluminum Truck Beds and Service Bodies Brochure.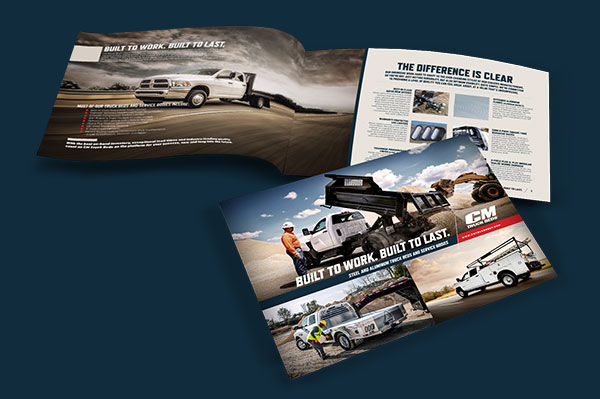 CM Truck Beds News
KINGSTON, OK (January 11, 2020) — CM Truck Beds is proud to introduce the new Gen 2 SB Service Body. Building on the legacy of its popular SB model, CM pushed the envelope to [...]
CM has added another innovation to its lineup with the debut of the HS Hotshot. This single-piece steel truck body is designed for ultimate strength and durability. It offers the industry's best hauling capacity and [...]
CM Truck Beds continues its focus on driving the industry forward with the introduction of several innovative new models in 2020. The CR Crane Body, CB Contractor Body and LB Landscape Body enhance the CM [...]