Built to work. Built to last.
With its sleek design, ultra-durable hardware and unsurpassed features, including a heavy-duty two-way rear gate, this rugged dump hauling body is the smart choice for professionals in construction, excavation, landscaping and beyond.
Standard Equipment Information
Bolt on Cab Protector with plasma cut rear view window grill
Safer, better looking and heavier to protect the cab against materials falling when loading and shifting in transit
6" structural steel long sills, 3" Structural crossmembers
The foundation of a dump body is important, with this skeleton, you will be able to haul the heaviest of loads
18" Stationary or fold down sides with wood pockets
Maximum capacity is important in dump bodies. Whether you are hauling loose materials inside of your dump body or would like to load the body from the side, this dump body has options to help you get the job done.
3/16" Steel floor
Since we understand what you will be hauling in this body, we want to ensure that you have the foundation to use it for the toughest jobs for years to come. When many dump bodies come standard with 1/8" or 12 gauge, this new dump body offers a heavier solution to users.
18" 10 gauge side walls
Heavy duty sides are important on a dump body, and we have you covered. No matter where you load or what you load, our side walls are the most robust in the industry. Reinforced with tube top rails and formed bottom rails, you wont have to worry about the strength of our side rails.
2 Point 24" tall rear gate
Don't worry about your cargo, our heavy duty tailgate will ensure that you have a good seal when in transit and allows you to dump or spread your materials with ease.
LED DOT Approved lighting
CM Truck Beds only uses the safest, brightest lighting on our bodies. Stand out and don't worry about maintenance with our premium lighting. Note-Stop/Tail/Turn lights are provided with chassis by OEM and should be installed at up-fit.
Brochure
Submit the form below to be provided a copy of our Steel and Aluminum Truck Beds and Service Bodies Brochure.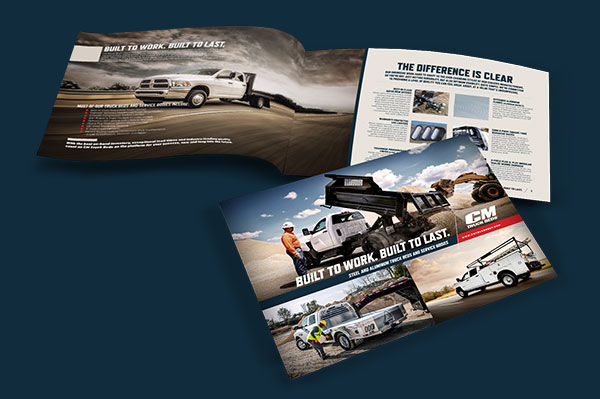 CM Truck Beds News
Introducing CM Truck Beds' New Dump Hauling Body. Complete with superior features and unparalleled options, the new dump hauling body can tackle any job.
Kingston, OK. – CM Truck Beds is proud to introduce the new SZ Model squeeze bed. Due to popular demand, this new truck bed is the hay squeeze bed dealers and customers alike have been searching for. CM [...]
CM Truck beds have the customizable service bodies you have been looking for. Our component style body gives you the flexibility to add anything to your body