A Perfect Marriage of Functionality and Affordability
Built in conjunction with Dakota Bodies, the CR Crane model has a carrying capacity over 6,000 lbs. and comes equipped with a heavy-duty Crane reinforcement to lift and load heavy materials. This easy-to-maneuver unit is a smart solution at any job site, no matter how tough the task.
Standard Equipment Information
16 gauge (A60) galvanneal body
Steel thickness provides strength, that's why we use the thickest steel in the service body industry. On top of that, we use A60, treated to prolong the life of the steel in our bodies. When you put tools in our boxes, on top of our bodies, and work on them, our steel will outperform those on the market.
11 gauge galvanneal deck
Steel thickness provides strength, that's why we use the thickest decks in the service body industry. We know that our beds are intended to work and provide foundation to those using them. When you work our beds, you can rest assured that our decks won't sag, flex, or crack.
Full length rear skirt
A one piece rear skirt that is seamless with integrated structure. This feature allows a slick and finished look on your rear body.
Conduit in understructure
Nothing is more aggravating than wiring issues. That's why we run all of our wiring in conduit to prevent issues associated with ice and debris.
Automotive stainless steel rotary latches
Keeping your tools safe is the most important component of a working man. No doubt, our latches will not only keep them safe, but also out of the elements that the toolboxes are placed under each and every day. When you shut your toolboxes, you can rest assured that our toolbox latches will meet your expectations.
Bolted body for secure attachment
Our bodies are intended to work, and when they are put to work, no doubt they will get damaged. That's where we are different. Our component bodies are bolted together making repair on our bodies easier than any on the market. Need a different configuration, just unbolt one side and put a different configuration on it.
6″ structural steel frame rails
Our structural 6″ frame rails are stronger, more durable, and prevent any rusting from the interior of the tube. Furthermore, we don't use roll formed runners, making our structure stronger than any on the market.
Automotive D Bulb weather stripping
Weatherstripping is an important feature for anybody. Our doors are sealed with D bulb weatherstripping to ensure that no moisture gains entry to the interior of our tool boxes. When you put your prized possessions in your boxes, don't worry if they will be protected.Multi panel doors with internal reinforcements
Strength in toolbox doors has so much value. Seals, wear and tear, and even provides stability when hanging tools on the doors when in transit. That's why CM Truck Bodies uses a multi piece doors, reinforced to prevent flexing and sagging in our doors. Our doors will shut, seal, and perform better than any door in the market.
Heavy-duty rear tailgate
When you haul materials on our decks, you can rest assured that our tailgates will be tough enough to keep the material inside of the deck. Need a step to get in the bed, these tailgates are rated at over 400 lbs., supporting even the largest operators to gain access into our bodies.
Gas cylinder style door holders
We don't use simple springs, we use the finest gas shocks on the market today. Our gas shocks provide strength that allows our doors to open smoothly and stay open so you can use your body for what it's intended for…work!
PAINT
Super durable Powdercoat finish
While other companies stick to paint, CM Truck Bodies coats every product we make with powder. Using the highest quality powder coat finish, we go under every edge and cover every crevice to ensure your truck bed is protected. This superior finish also adds a shine that will last for many years.
Individually coated components for maximum coverage
Not only do we use the best powder in the business, we coat every single part. It's not about what you can see, but what you can't. Since CM coats every single part of our service body, you can rest assured that the parts of the body that you cannot see look as good as the ones you can
Powder coated tool box interior
We don't cut any corners around here, we powder and primer everything. We make sure that even the interior of your toolboxes are powdered. This ensures that when your tools shift in transit, your toolboxes won't end up with rust and corrosion.
Warranty
4 Year / 48,000 mile warranty
Some companies say they stand behind their products, we put it in writing. No doubt about it, we offer the best warranty for the longest span of the life of the body, period! When the industry standard is to only warranty a body for a period of 36 months, we're happy to step above the industry and offer a 48 month warranty. We recognize what an investment a service body can be and we want you to know that we are with you today, and four years from now.
Brochure
Submit the form below to be provided a copy of our Steel and Aluminum Truck Beds and Service Bodies Brochure.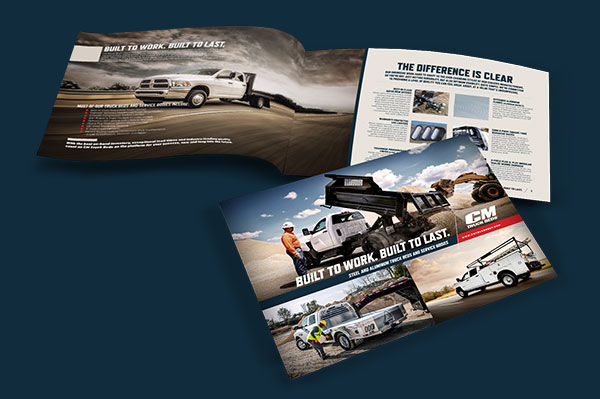 CM Truck Beds News
Introducing CM Truck Beds' New Dump Hauling Body. Complete with superior features and unparalleled options, the new dump hauling body can tackle any job.
Kingston, OK. – CM Truck Beds is proud to introduce the new SZ Model squeeze bed. Due to popular demand, this new truck bed is the hay squeeze bed dealers and customers alike have been searching for. CM [...]
CM Truck beds have the customizable service bodies you have been looking for. Our component style body gives you the flexibility to add anything to your body